Broken, damaged, or misshapen teeth can cause discomfort, sensitivity, and confidence issues.
A dental crown is a porcelain restoration designed to cover a damaged tooth, providing strength and an improved appearance.
At Aesthetic and General Dentistry in Orlando, FL, we design custom crowns that look and feel great for years to come...
Benefits of Dental Crowns
Placed by Dr. Alfredo Gapuz
Versatile Applications
A dental crown is one of the most widely used restorative dentistry treatments because it can address a wide range of dental concerns with just one treatment.
Dentist Alfredo Gapuz
uses dental crowns to restore the function of compromised teeth, enhance cosmetically flawed teeth, support teeth after root canal treatments, or
replace missing teeth in conjunction with dental implants
.
Renewed Dental Function & Form
A crown can dramatically improve your dental function. We use medical-grade porcelain to create highly aesthetic and long-lasting crowns. Thanks to our durable materials, your restoration can last for many years. Meanwhile, your smile will look younger and healthier, giving you a boost in confidence.
Improved Oral Health
At his Orlando, FL, practice, Dr. Gapuz will work meticulously to ensure lifelike results and fully restored oral health. Our dentist has advanced training in neuromuscular dentistry, so he can be certain that your restoration will not alter the balance of your bite or put too much pressure on your jaw joints. At the same time, Dr. Gapuz uses very conservative techniques. As a result, your treatment should involve little to no discomfort, and your crown will have a strong foundation for long-lasting results.
A dental crown is a porcelain restoration that covers the entire surface of a tooth from the gum line to the cusps.
It can conceal the effects of damage, strengthen the outer structure of your tooth, and contribute to a balanced bite. If you have a severely damaged tooth, a crown can protect your natural tooth structure and prevent the need for an extraction.
Each crown provided by our Orlando, FL, practice is personally designed by our dentist and custom-crafted by a skilled team of ceramists over the course of two appointments. To protect your tooth from damage or discomfort between appointments, we will provide a temporary crown.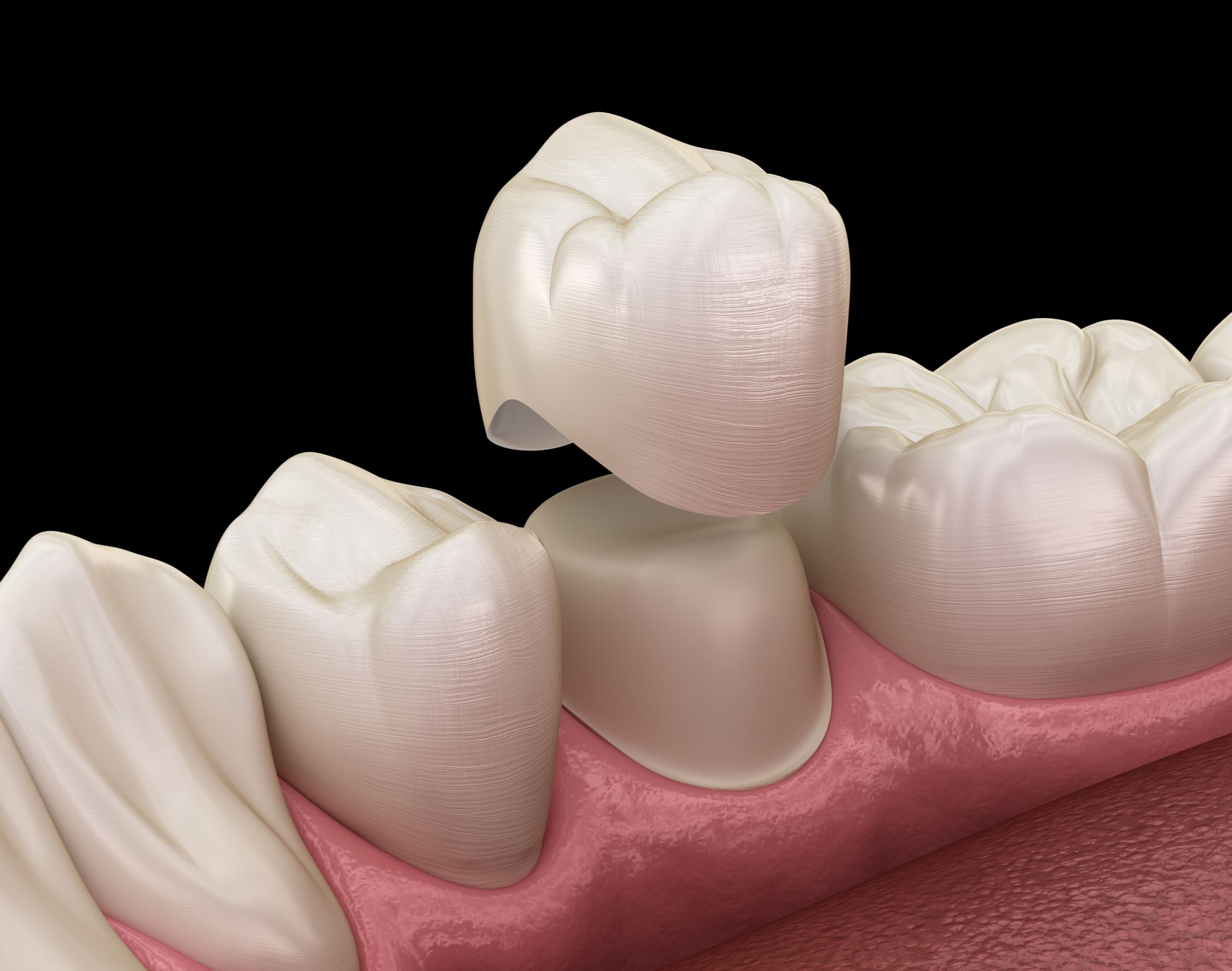 Contact Us Today
& Start Your Dental Crown Treatment
A dental crown is a very visible and beneficial restoration, so it's important to choose a dentist that can deliver beautiful, comfortable, and long-lasting results.
At Aesthetic and General Dentistry in Orlando, FL, we strive to provide stunning results and exceptional patient care in a warm, friendly setting. Dr. Gapuz has been practicing dentistry since 1995, and he is affiliated with many notable dental organizations, including:
American Academy of Cosmetic Dentistry
International Congress of Oral Implantologists
The Florida Academy of Cosmetic Dentistry
International Academy for Dental Facial Esthetics
Our dentist also has advanced training in neuromuscular dentistry, so he will always make sure that your dental work is compatible with a comfortable and properly balanced bite. If you are struggling with decay, have a missing tooth, or are concerned with the appearance of your smile, contact our office online to book an appointment and find out if a crown is right for you. You can also call us at:
"Amazing Dentist."
Real Reviews from Real Patients
I came to this place because of all the good reviews and now I'm happy to leave a good review myself!!! Staff is super kind and the doctor is amazing. He sat there and showed me my pictures and xrays explaining everything in detail!! Unfortunately my last dentist was just an in and out doctor who didn't care to explain anything and only told u what was needed and walked out. This doctor shows and tells you why it's needed...
View On Google
Amazing dentist. I have been going here since I was ten and I will never go to a different dentist. The office staff is amazing and Dr. Gapuz is very skilled at what he does. They make going to the dentist seem fun and not scary. I had to get all four of my wisdom teeth surgically removed as a teen and Dr. Gapuz did an amazing job.

View On Google
What to Expect during Your Treatment
From your first consultation to your final fitting, you can complete your entire treatment with Dr. Gapuz. Our dentist can handle most cases at our Orlando, FL, office, so you won't have to worry about scheduling appointments with other doctors or hopping back and forth between dental offices.
Most patients need two appointments to complete their dental crown treatment. Here is what you can expect:
Crowns are placed over the course of two visits to our Orlando office.
"He Does Such an Amazing Job to Keep You Comfortable."
Love Dr Gapuz and his staff! Everyone is super friendly and very skilled. Dental work is never fun but he does such an amazing job to keep you comfortable with even during uncomfortable procedures. The office is spotless and everything is so clean and sterile. I take comfort knowing I can call the office if I have any problems or need to come in, in a pinch. Would definitely recommend!

View On Google
They're all great and amazing! Dr. A. Gapuz is the best dentist I've ever known in my life. His staff is fantastic, courteous, and knowledgeable in their own areas of expertise. My husband loves him and was so grateful to Dr. Gapuz after he did his dental work. My husband is able to eat now without pain and his face and smile looked a lot better than before.
View On Google
How Much Does a Dental Crown Cost?
If you are insured, your policy probably covers at least a portion of the cost of a crown. However, depending on the materials used, your out-of-pocket expenses can vary. To get a custom quote, schedule a consultation with our Orlando, FL, dentist.
To make crowns more affordable, we offer financing through CareCredit® and the Wells Fargo Health Advantage Credit Card. These third-party lenders can place the results you want within your budget by breaking the cost into low-interest monthly payments.