Taking proper care of your dentures will ensure their longevity and help you maintain optimal oral health. Dr. Alfredo M. Gapuz will give you detailed instructions on at-home maintenance and explain how properly caring for dentures can improve your overall quality of life.
Individuals missing most or all of their teeth can benefit from dentures at our Orlando, FL, dental practice. We offer traditional full and partial dentures as well as implant-supported prostheses, depending on your personal needs and aesthetic goals.
How to Care for Your Dentures
To keep dentures looking and feeling great for the long haul, patients should:
Rinse dentures following meals: After eating, remove your dentures and run them under cool water to rinse off any food particles and debris.
Handle with care: Dentures may break if dropped. When cleaning or rinsing your appliance, place a folded towel in the sink or on the countertop to reduce the risk of damage.
Brush dentures daily: In addition to rinsing your dentures, you should also brush them at least once a day. Use a soft-bristled brush and non-abrasive cleaner to remove debris, adhesive, and bacteria.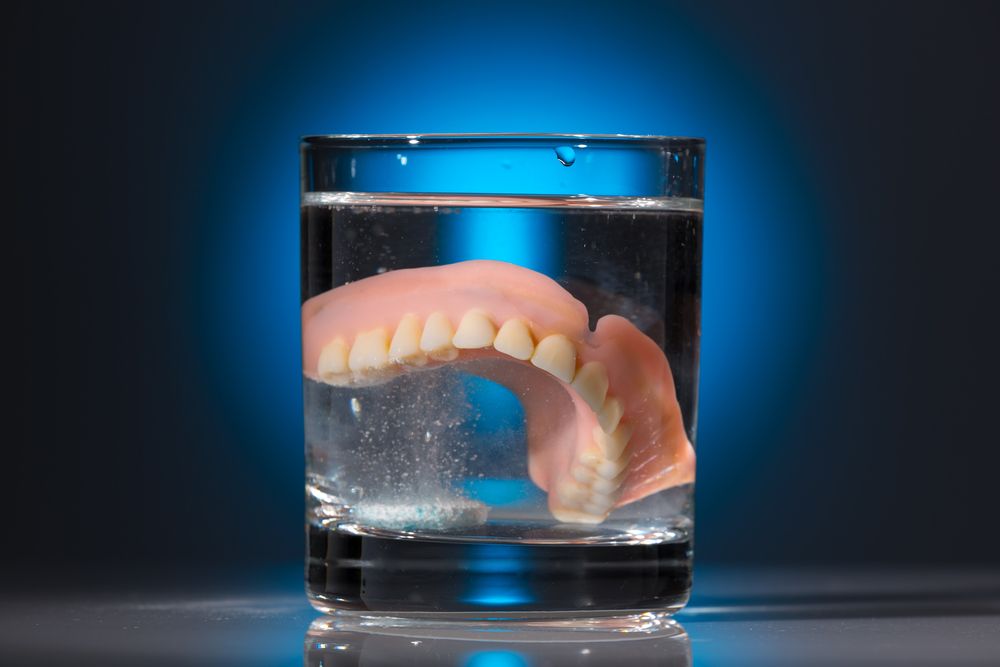 Soak dentures overnight: Dentures must be stored in liquid when they are not being worn. This is because they can warp if they do not stay moist. We recommend removing your dentures before going to sleep and soaking them in water or a special denture-cleaning solution.
Keep your mouth clean: In addition to brushing and soaking your dentures, it is important to clean your mouth as well. Brush your gums, tongue, roof of the mouth, and any remaining teeth with a soft-bristled toothbrush. This will reduce oral bacteria levels and your risk of infection.
What to Avoid
There are certain products that can damage your dentures. It is a good idea to steer clear of:
Whitening toothpaste: Generally, whitening toothpaste contains hydrogen peroxide, which lightens the color of the natural teeth. However, peroxide does nothing to whiten dentures and can actually damage the appliance.
Abrasive cleaning products: Strong or harsh cleansers can compromise the strength of your dentures. Medium or hard-bristled brushes can also leave micro-scratches behind, in which bacteria can hide.
Bleach-containing products: Bleach can change the color of your dentures and weaken the structure. In addition, bleach-containing products can corrode or tarnish any metal components of the restoration.
Hot water: Always rinse your dentures under cool water, as hot temperatures can warp your appliance and undermine the fit.
Preventing Denture Problems
In addition to the recommendations listed above, patients should schedule regular checkups with their dentist at least twice a year. During these visits, your doctor can assess your appliance to ensure a proper fit. Adjustments and relines are common and may need to be performed periodically to maintain optimal comfort.
If your denture breaks, it is important that you call your dentist right away. Patients should never attempt to repair a denture at home, as this can lead to a number of oral health issues, such as bite misalignment and jaw pain.
Keep Your Dentures in Good Repair
If you wear dentures, we can give you the resources you need to keep them in excellent shape and maximize their lifespan. To learn more, contact us online or give us a call at (407) 251-5100.