A Full Mouth Reconstruction Restores Optimal Oral Health
Dr. Alfredo Gapuz can combine multiple restorative procedures into a single full mouth reconstruction at his Orlando, FL, practice to completely repair a compromised smile. Dr. Gapuz uses this treatment approach to address any combination of tooth decay, gum disease, and damaged or missing teeth. Patients who feel that their smile is beyond repair can depend on Dr. Gapuz to restore the health, comfort, aesthetics, and confidence they deserve.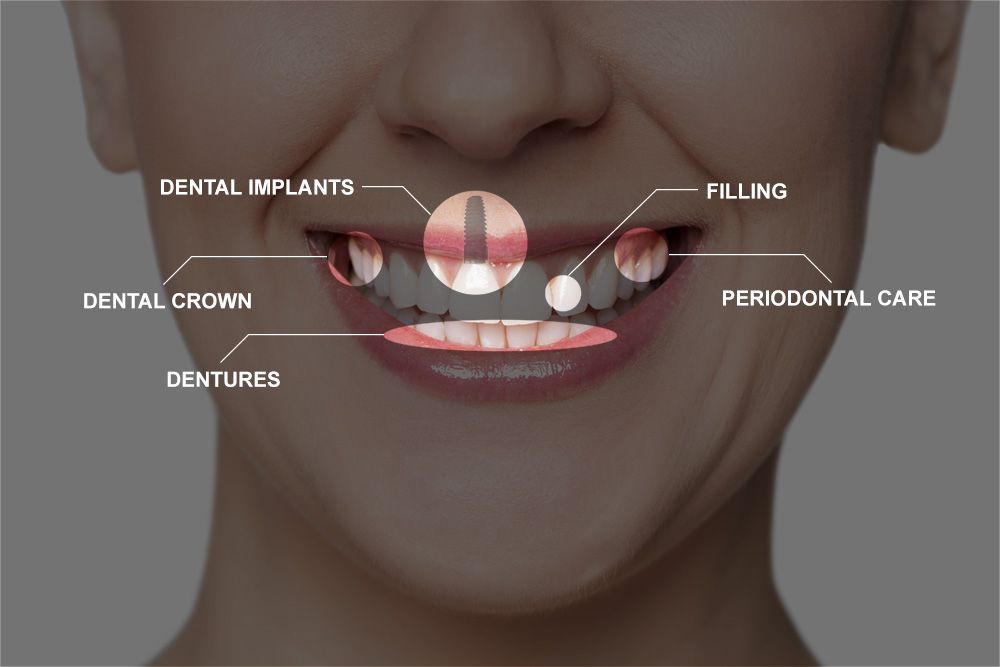 Full Mouth Reconstruction Treatment Options
Depending on a patient's needs, a full mouth reconstruction treatment plan combines many types of dental therapy, including:
Dental Implants – Dental implants replace lost tooth roots. A titanium post, or implant, is surgically inserted into the jaw to support crowns, bridges, or full dentures. In addition to providing the absolute best support for restorations, dental implants are the only restorative dentistry solution that can prevent recession of jawbone tissue after a tooth has been lost.
Dental Bridge - A dental bridge replaces one or more consecutive missing teeth. A bridge consists of a replacement tooth (pontic) secured to adjacent dental crowns or implants. The pontic and crowns are crafted from porcelain to look just like your natural teeth.
Root Canal Therapy – Root canal therapy can eliminate painful symptoms and the need for extraction if a tooth becomes infected. The infected inner tissue of the tooth is removed, preserving the exterior. The tooth is then sealed with a cap or crown. Dr. Gapuz' advanced approach to this procedure ensures the procedure is comfortable, fast, and incredibly beneficial.
Tooth-Colored Fillings - Fillings replace decayed dental tissue. Dr. Gapuz uses tooth-colored fillings because they provide better aesthetics than traditional silver amalgam metal alloy fillings. Tooth-colored fillings also bond more securely with the natural tooth structure for increased retention, and they offer greater oral health benefits for patients with metal sensitivities.
Crowns - Porcelain tooth-shaped crowns can protect compromised teeth while restoring balance to the jaws and improving the aesthetics of your smile. Dr. Gapuz uses CEREC technology to create and place porcelain crowns in a single appointment. CEREC is a technology that uses digital impressions to guide computerized milling tools in creating precise dental crowns from a single block of porcelain chosen to match the shade of surrounding teeth.
What to Expect during Treatment
Depending on the extent of treatment a patient requires, full mouth reconstruction is usually performed in phases. At any stage of treatment, Dr. Gapuz can provide a number of sedation options to reduce anxiety and better maintain your total comfort. During your initial consultation, Dr. Gapuz will formulate a treatment plan. If it includes implants, you can expect to undergo two surgeries separated by approximately four to six months. Once the implants are in place and have fully healed, they can provide a lifetime of superior support for restorations while preventing bone resorption and other changes in jaw shape.
Through careful analysis, expert recommendations, and treatment performed using the very latest innovations in dentistry, Dr. Gapuz can restore the comfort, health, and peace of mind every patient deserves.
While undergoing full mouth reconstruction, patients sometimes prefer to restore one arch at a time. Dr. Gapuz can accommodate these wishes, but he cautions that this treatment is most effective when both arches are reconstructed at the same time.
Full Mouth Reconstruction for TMD
Temporomandibular disorder, or TMD, presents a special case for full mouth reconstruction. Patients sometimes experience pain in and around one or both of their jaw joints, which are known as temporomandibular joints (TMJ). These painful symptoms are known collectively as TMD. TMD symptoms vary widely and affect other parts of the head and neck region in addition to the temporomandibular area. These symptoms include pain, clicking, a limited ability to open your mouth and jaw, headaches, earaches, neck pain, and a long list of other potential problems.
These symptoms are often misinterpreted as something entirely unrelated, such as a migraine headache or an ear or sinus infection. Perhaps more importantly, they can also mask the symptoms caused by serious medical conditions that exist elsewhere. Because of the potential implications and because TMD pain can cause patients a great deal of discomfort, it is vitally important for TMD patients to seek a dentist who is trained to interpret TMD symptoms and properly diagnose and treat this complex condition.
Dr. Gapuz has completed specialized training in the diagnosis and treatment of TMD, and he is equipped to employ the full range of treatment modalities. He first performs a thorough head and neck examination, noting all clinical findings, as well as any subjective symptoms. When he arrives at a diagnosis, he will discuss with you all possible treatment options. These might include the fabrication and fitting of a specially made orthotic device—or bite guard—or the use of stress reduction and neuromuscular dentistry techniques. In extreme cases, a more definitive treatment may be required for his patients suffering from TMD, and Dr. Gapuz may recommend a full mouth reconstruction.
A faulty bite can sometimes cause TMD symptoms. This typically occurs when the teeth have become severely worn because of bad oral habits, such as bruxism (grinding of teeth), or because of severe tooth erosion. In these cases, the bite may have become altered or uneven. Sometimes, there occurs such extreme wear that there is a loss of vertical dimension. This allows the jaw to close more than it naturally should. Malocclusion such as this puts unnatural stresses on one or both temporomandibular joints, resulting in TMJ-related pain symptoms. A full mouth reconstruction is the best solution for patients with these kinds of severe symptoms. Your treatment plan will restore your teeth and your bite to a more natural, healthy, and functional state.
Book A Consultation
The health of your smile plays an invaluable role in your quality of life. If you are suffering because multiple health issues are compromising your smile, we highly recommend that you come to Dr. Gapuz for help. Through careful analysis, expert recommendations, and treatment performed using the very latest innovations in dentistry, Dr. Gapuz can restore the comfort, health, and peace of mind every patient deserves. Contact him and his team online or call (407) 871-6798 to schedule a consultation. Dr. Gapuz leaves a few appointments empty each day to accommodate new patients as soon as possible.